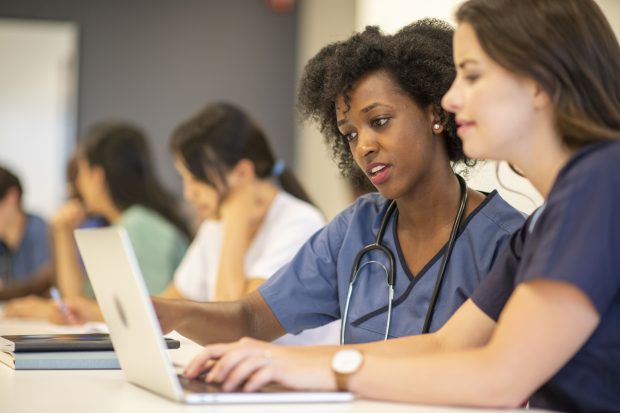 I know that it hasn't been an easy time to be a student, in the midst of one of the biggest threats to public health in a generation.
However, throughout this pandemic, the healthcare students of this country have excelled, with so many stepping forward to work on the frontline to help fight coronavirus.
Around 35,000 students stepped up to directly support the NHS response, and over 3,000 medical students graduated early and volunteered to join the ranks.
This pandemic has vividly shown the importance of developing the best possible talent. It's been so heartening to see the surge in people who have been inspired to consider careers in health and care. The number of people accepting a place on a nursing course increased by 26% last year, and this year's UCAS statistics show applications to nursing courses in England are up by over a third.
As we look to develop the best possible talent, I was thrilled to announce funding of up to £15 million, so English universities can rapidly expand simulated learning for nursing and other Allied Health Professional students this year.
This funding will help give the next generation of nurses and AHPs access to the training they need. The Nursing and Midwifery Council recently announced that more clinical practice hours can now be taken in a simulated environment, and it's been heartening to see how training providers have been embracing the latest technologies.
For example, Birmingham City University has been using simulations and roleplays over video, with actors playing patients. It's been brilliant to see training adapting to the demands of this pandemic and I have no doubt that there will be changes that we can take forward in the years ahead.
I was also delighted to announce a £10 million investment to enable more staff to train and qualify in critical care. During a recent visit to Basildon Hospital's ICU, I saw first-hand the immense pressures faced by critical care staff, and heard about how they'd been adapting and gaining specialist clinical skills over the past year. The funding will help around 9,500 staff members develop transferable clinical skills, helping to build a workforce that reaches across professional boundaries.
Our people are the strongest asset that we have in the NHS. As we put this pandemic behind us, we will keep investing in future generations so we can give ourselves the firmest foundations for the future.